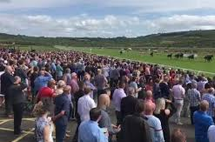 Watch Ffos Las Races Live
How to watch Ffos Las Races online?
Ffos Las is a Left handed Turf racecourse in Wales . Ffos Las features Mixed races every year including Ffos Las Festival, Welsh Champion Hurdle, Ladies Festival, Gentlemans Day, Autumn Afternoon Racing, Countryside Raceday . It's easy to get live streaming from Ffos Las racecourse and you can watch today's Welsh meetings at home on your smartphone, tablet or pc below.

Watch Live Horse Racing Online Here


With our Ffos Las streaming links, horse racing visitors can watch the races in their own home. All streams can be watched on a computer, laptop and all tablets/smartphones. This also includes iPhones & Apple iPads or any gadget with wi-fi or 4g using Apple iOS or Windows/Android. All Ffos Las videos come with live English audio, so racing fans can listen on the internet.


What's upcoming at Ffos Las Racecourse?


Tue Feb 1 2022 - Ffos Las
Thu Feb 10 2022 - Ffos Las
Wed Mar 23 2022 - Ffos Las
Thu Apr 7 2022 - Ffos Las
Sun Apr 17 2022 - Ffos Las
Mon May 16 2022 - Ffos Las
Sat May 28 2022 - Ffos Las
Thu Jun 2 2022 - Ffos Las
Thu Jun 16 2022 - Ffos Las
Mon Jul 4 2022 - Ffos Las
Tue Jul 19 2022 - Ffos Las


Address:
Address: Trimsaran, Carmarthenshire, SA17 4DE

Ffos Las Stats:
Race Types: Mixed
What surface?: Turf
Owner: Arena Racing Company
Track: Left

Top Racings & Meeetings:
Welsh Champion Hurdle