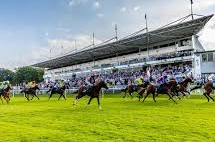 Watch Hamilton Park Races Live
How to watch Hamilton Park Races online?
Hamilton Park is a Right handed Turf racecourse in Scotland . Hamilton Park features Flat races every year including Scottish Trophy Raceday, Palmaris Services Racenight, Racing TV Club Day, Almada Raceday, Family Raceday, Audi on Demand Racenight, Cadzow Castle Raceday, Lanark Silver Bell Racenight, Sodexo Raceday, Saints and Sinners Racenight, Bothwell Castle Raceday, MacRoberts LLP Raceday . It's easy to get live streaming from Hamilton Park racecourse and you can watch today's Scottish meetings at home on your smartphone, tablet or pc below.

Watch Live Horse Racing Online Here


By making use of the live Hamilton Park feeds, horse racing visitors can view the races in high quality. All live coverage can be watched on a pc, laptop and all smartphones & tablets. This includes Apple iPhones & Apple iPads or any gadget with internet access or 5g/4g using iOS or Windows/Android. All Hamilton Park videos also contain live English radio streaming, so fans can listen to the action.


What's upcoming at Hamilton Park Racecourse?


Sun May 1 2022
Sun May 8 2022
Fri May 13 2022
Wed May 25 2022
Thu Jun 2 2022
Wed Jun 8 2022
Wed Jun 15 2022
Thu Jun 23 2022
Tue Jun 28 2022
Sat Jul 9 2022
Thu Jul 14 2022
Fri Jul 15 2022
Sat Jul 30 2022
Tue Aug 16 2022
Fri Aug 26 2022
Wed Aug 31 2022
Sun Sep 18 2022
Mon Sep 19 2022
Mon Sep 26 2022


Address:
Address: Racecourse Office, Bothwell Road, Hamilton, Lanarkshire, ML3 0DW

Hamilton Park Stats:
Race Types: Flat
What surface?: Turf
Owner: Independent
Track: Right

Top Racings & Meeetings:
Braveheart Handicap