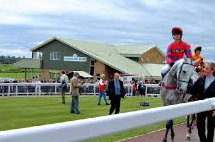 Watch Hereford Races Live
How to watch Hereford Races online?
Hereford is a Right handed Turf racecourse in England . Hereford features National Hunt races every year including Herefordshire Raceday, Christmas Jumper Raceday, Ladies Day, ROA Ownership Strategy Raceday, New Year Racing . It's easy to get live streaming from Hereford racecourse and you can watch today's English meetings at home on your smartphone, tablet or pc below.

Watch Live Horse Racing Online Here


With the racing horse racing streams, horse racing visitors can watch the races at home. All live streaming can be enjoyed on a computer, laptop and all smartphones & tablets. This includes iPhones & iPads or any device with internet access or 4g/5g using Apple iOS or Android. All Hereford broadcasts feature live English radio streaming, so race fans can listen on the internet.


What's upcoming at Hereford Racecourse?


Mon Jan 31 2022
Wed Feb 16 2022
Sun Feb 27 2022
Sat Mar 12 2022
Fri Mar 25 2022
Sun Apr 3 2022
Tue Oct 11 2022
Mon Oct 31 2022
Tue Nov 8 2022
Tue Nov 15 2022
Wed Nov 23 2022
Sat Dec 10 2022


Address:
Address: Racecourse House, Roman Road, Hereford, HR4 9QU

Hereford Stats:
Race Types: National Hunt
What surface?: Turf
Owner: Herefordshire Council
Track: Right

Top Racings & Meeetings:
Lower Hope Mares Handicap Chase, Radbournes Mares Handicap Hurdle, Trumpers Tea Novices Hurdle, St Michaels Hospice Juvenile Maiden Hurdle