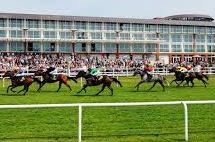 Watch Lingfield Park Races Live
How to watch Lingfield Park Races online?
Lingfield Park is a Left handed Turf racecourse in England . Lingfield Park features Mixed races every year including Winter Derby, All Weather Championships Finals Day . It's easy to get live streaming from Lingfield Park racecourse and you can watch today's English meetings at home on your smartphone, tablet or pc below.

Watch Live Horse Racing Online Here


By browsing these racing horse racing feeds, racing enthusiasts can get the races in high definition. All livestreams can be seen on a computer, laptop and all tablets and smartphones. This can also be done via Apple iPhones & Apple iPads or any gadget with internet access or 4g using Apple iOS or Android. All live Lingfield Park racecourse broadcasts also have live English radio commentary, so race fans can listen to the races.


Lingfield Map:




What's upcoming at Lingfield Park Racecourse?


Fri Jan 14 2022
Sat Jan 15 2022
Fri Jan 21 2022
Sat Jan 22 2022
Sun Jan 23 2022
Tue Jan 25 2022
Wed Jan 26 2022
Fri Jan 28 2022
Sat Jan 29 2022
Fri Feb 4 2022
Sat Feb 5 2022
Sat Feb 12 2022
Tue Feb 15 2022
Fri Feb 18 2022
Sat Feb 19 2022
Mon Feb 21 2022
Fri Feb 25 2022
Sat Feb 26 2022
Wed Mar 2 2022
Fri Mar 4 2022
Sat Mar 5 2022
Wed Mar 9 2022
Sat Mar 12 2022
Wed Mar 30 2022
Thu Mar 31 2022
Sat Apr 2 2022
Wed Apr 6 2022
Fri Apr 15 2022
Wed Apr 20 2022
Mon Apr 25 2022
Thu Apr 28 2022
Tue May 3 2022
Sat May 7 2022
Thu May 19 2022
Sat May 21 2022
Tue May 24 2022
Mon May 30 2022
Sat Jun 4 2022
Mon Jun 6 2022
Mon Jun 13 2022
Thu Jun 16 2022
Sat Jun 18 2022
Sat Jun 25 2022
Wed Jul 6 2022
Wed Jul 13 2022
Wed Jul 20 2022
Sat Jul 23 2022
Sat Jul 30 2022
Sat Aug 6 2022
Tue Aug 9 2022
Thu Aug 11 2022
Mon Aug 15 2022
Sat Aug 20 2022
Wed Aug 24 2022
Wed Aug 31 2022
Sat Sep 10 2022
Tue Sep 20 2022
Thu Sep 29 2022
Thu Oct 27 2022
Tue Nov 8 2022
Sat Nov 12 2022
Tue Nov 15 2022
Sat Nov 19 2022
Thu Nov 24 2022
Tue Nov 29 2022
Wed Nov 30 2022
Mon Dec 5 2022
Wed Dec 7 2022
Wed Dec 14 2022
Sat Dec 17 2022
Mon Dec 19 2022
Wed Dec 21 2022
Thu Dec 22 2022
Sat Dec 31 2022


Address:
Address: Racecourse Road, Lingfield, Surrey, RH7 6PQ

Lingfield Park Stats:
Race Types: Mixed
What surface?: Turf
Owner: Arena Racing Company
Track: Left

Top Racings & Meeetings:
Winter Derby Trial, Spring Cup, Hever Sprint Stakes, Cleve Stakes, Chartwell Fillies Stakes, Oaks Trial Stakes, Derby Trial Stakes, Winter Derby