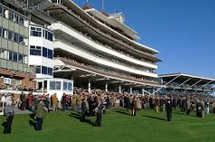 Watch Newbury Races Live
How to watch Newbury Races online?
Newbury is a Left handed Turf racecourse in England . Newbury features Mixed races every year including Hennessy Meeting, Winter Carnival, Lockinge Stakes Day . It's easy to get live streaming from Newbury racecourse and you can watch today's English meetings at home on your smartphone, tablet or pc below.

Watch Live Horse Racing Online Here


By making use of these Newbury streaming links, race lovers can view the races via high quality video. All online streaming can be enjoyed on a pc, notebook and all smartphones/tablets. This can also be done via iphones and iPads or any device with wi-fi or 4g using iOS or Windows/Android. All live Newbury videos will contain live English commentary, so viewers can listen on the net.


Map:




What's upcoming at Newbury Racecourse?


Wed Jan 19 2022 - Newbury
Sat Feb 12 2022 - Newbury
Sun Feb 20 2022 - Newbury
Fri Mar 4 2022 - Newbury
Sat Mar 5 2022 - Newbury
Fri Apr 1 2022 - Newbury
Sat Apr 2 2022 - Newbury
Sat Apr 16 2022 - Newbury
Sun Apr 17 2022 - Newbury
Fri May 13 2022 - Newbury
Sat May 14 2022 - Newbury
Tue May 31 2022 - NEWBURY


Address:
Address: The Racecourse, Newbury, Berkshire, RG14 7NZ

Newbury Stats:
Race Types: Mixed
What surface?: Turf
Owner: Independent
Track: Left

Top Racings & Meeetings:
Lockinge Stakes, Mill Reef Stakes, Hungerford Stakes