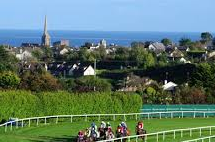 Watch Wexford Races Live
How to watch Wexford Races online?
Wexford is a Left handed Turf racecourse in Ireland . Wexford features National Hunt races every year including Friday evening raceday . It's easy to get live streaming from Wexford racecourse and you can watch today's Irish meetings at home on your smartphone, tablet or pc below.

Watch Live Horse Racing Online Here


With the racing horse racing feeds, horse racing enthusiasts can view the races at home. All online coverage can be viewed on a pc, laptop and all smartphones & tablets. This also includes iPhones & iPads or any device with wi-fi or 4g/5g using Apple iOS or Windows/Android. All Wexford broadcasts also broadcast live English audio, so you can listen on the internet.


What's upcoming at Wexford Racecourse?


Sun, 6th March, 2022
Fri, 1st April, 2022
Sat, 14th May, 2022
Wed, 25th May, 2022
Wed, 8th June, 2022
Wed, 15th June, 2022
Fri, 1st July, 2022
Fri, 5th August, 2022
Sat, 3rd September, 2022
Sun, 30th October, 2022
Mon, 31st October, 2022


Address:
Address: Bettyville, Newtown Rd, Carricklawn, Wexford, Ireland

Wexford Stats:
Race Types: National Hunt
What surface?: Turf
Owner: Horse Racing Ireland
Track: Left

Top Racings & Meeetings:
MW Hickey Memorial Chase, Veterans Handicap Chase