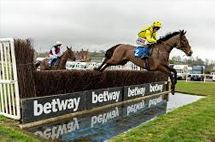 Watch Wincanton Races Live
How to watch Wincanton Races online?
Wincanton is a Right handed Turf racecourse in England . Wincanton features National Hunt races every year including Newcomers Day, CRS Building Supplies Raceday, Betway Kingwell Hurdle Day, Combat Stress Centenary Raceday, Badger Chase Day, Somerset National Day . It's easy to get live streaming from Wincanton racecourse and you can watch today's English meetings at home on your smartphone, tablet or pc below.

Watch Live Horse Racing Online Here


By using our race streams, racing fans can view the races in high definition. All streams can be enjoyed on a computer, laptop and all smartphones. This also includes iphones & ipads or any smartphone with internet access or 4g/5g using Apple iOS or Android. All live Wincanton racetrack broadcasts also broadcast live English commentary, so fans can listen to the action.


What's upcoming at Wincanton Racecourse?


Sat Jan 8 2022
Thu Jan 20 2022
Wed Jan 26 2022
Thu Feb 3 2022
Sat Feb 19 2022
Wed Mar 2 2022
Thu Mar 10 2022
Mon Mar 21 2022
Wed Mar 30 2022
Sun Apr 10 2022
Thu Oct 13 2022
Sun Oct 23 2022
Sat Nov 5 2022
Thu Nov 17 2022
Thu Dec 1 2022
Tue Dec 13 2022
Mon Dec 26 2022


Address:
Address: Wincanton Racecourse, Wincanton, Somerset, BA9 8BJ

Wincanton Stats:
Race Types: National Hunt
What surface?: Turf
Owner: Jockey Club
Track: Right

Top Racings & Meeetings:
Badger Ales Trophy, Kingwell Hurdle